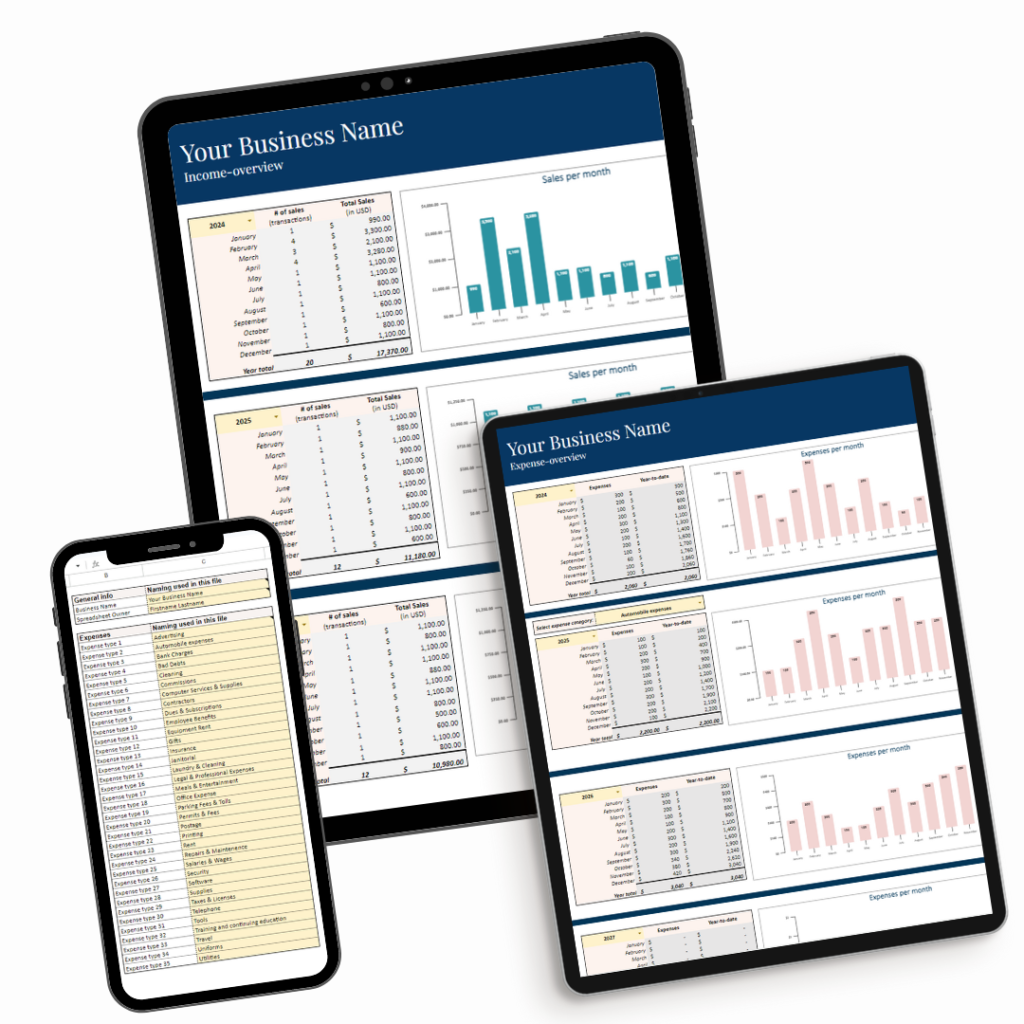 Are you a small business owner looking for a simple and effective way to keep track of your finances? Managing the financial aspects of a small business can be a daunting task. You're juggling expenses, income, profits, and often trying to make sense of complex financial data. This is where our Small Business Bookkeeping Tracker in Google Sheets comes to your rescue.
Advantages of Using Our Small Business Bookkeeping Tracker:
1. User-Friendly Bookkeeping: – You don't need to be a financial expert to use our tracker. It's designed with small business owners in mind, ensuring it's easy to navigate and understand.
2. Effortless Expense Tracking: – No more piles of receipts and invoices. Our tracker allows you to record and categorize expenses with ease, providing a clear picture of where your money is going.
3. Simplified Income Recording: – Tracking your income and revenue is a breeze with our automated system, saving you precious time.
4. Automated Calculations: – Say goodbye to manual calculations. The tracker handles all the math for you, reducing the chances of errors.
5. Clear Visual Graphs: – Visualize your financial data with easy-to-understand graphs, making it simple to gain insights and make informed decisions.
6. Stress-Free Tax Season: – With organized financial records at your fingertips, preparing for tax season becomes a less daunting task. You'll also be able to maximize your deductions.
7. Customizable to Your Business: – Every business is unique, and our tracker understands that. You can customize it to suit your specific needs.
8. Secure Data Backup: – Your financial data is valuable, and our tracker automatically backs it up, ensuring it's safe and accessible at all times.
9. Enhanced Security: – We prioritize the security of your financial information and employ industry-standard measures to protect your data from unauthorized access.
10. Time-Saving Templates: – We provide a library of time-saving templates for invoices, financial statements, and more, saving you from starting from scratch.
11. Versatile Reporting: – Generate various financial reports with just a few clicks. These reports help you analyze your business performance and make strategic decisions.
The Power of Streamlined Financial Management
Our Small Business Bookkeeping Tracker is more than just a tool; it's the key to streamlining your financial management and achieving success in your small business. It simplifies the complexities of financial data, allowing you to make informed decisions and focus on growing your business.
Success Stories: What Our Customers Say:
"A Game Changer for My Business"

"I can't recommend this bookkeeping tracker enough! It's a game-changer for my business. I now have everything I need at my fingertips to manage my finances efficiently. It's user-friendly and has saved me hours of work each month."

"Simplified Tax Season"

"Tax season used to be a nightmare, but with this bookkeeping tracker, it's become stress-free. It's made keeping track of income and expenses so easy. I've also maximized my tax deductions, which has been a huge financial benefit."

"The Best Financial Tool"

"This bookkeeping tracker is hands down the best financial tool I've ever used for my small business. The visual graphs give me insights I never had before, and I feel much more in control of my finances. Highly recommended."

"A Lifesaver for Busy Business Owners"

"I was drowning in paperwork and spreadsheets before I found this tracker. It's a lifesaver for busy business owners. The ease of use and the time it saves are priceless."

"Accurate and Reliable"

"I needed a solution to keep my financial data accurate and reliable. This tracker exceeded my expectations. It's easy to use, and I can always count on it for accurate calculations and insights."

"Small Business Must-Have"

"This tracker is a must-have for small businesses. It simplifies financial management, and the visual representations of data are incredibly helpful. I wish I had found it sooner."
Your Business Deserves Financial Clarity and Success
Your small business deserves financial clarity and success. It's time to simplify your financial life and make informed financial decisions. Our Small Business Bookkeeping Tracker is your path to a brighter financial future. Get started today and experience the difference.
Ready to Get Started?
Don't let the complexities of financial management hold you back from growing your business. Take the first step toward financial clarity and success today.
https://tbc.accountinguniverse.org/bookkeeping-tracker-7184
For further reading on small business finance and growth, check out these resources: